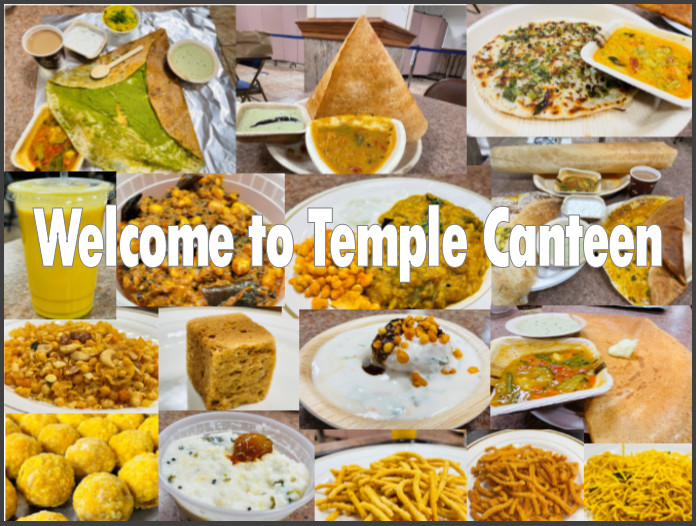 Temple Canteen is currently offering the following dining options
Daily from 8:30 AM to 9:00 PM
Take-Out – for info see: canteen.nyganeshtemple.org/contact 
Outdoor Dining – is available. You can still order and enjoy your food with the traditional sit-down experience.
Indoor Dining – Full indoor dining at 100% capacity with seating availability on a first – come, first – serve basis. Devotees wishing to use the indoor option must strictly adhere to all current NYC Indoor Dining guidelines including:
Having Temperature Taken • Wearing a Mask • Practice Social Distancing
Cover Your Cough & Sneeze • Wash Hands Often
 Anyone whose temperature is raised or who does not follow these precautions may be refused entry or asked to leave. We seek cooperation from every one during this challenging time.
Delivery is also available: Order with UberEats  –  DoorDash  or  GrubHub 
Temple Canteen's eGift Cards available!
The Temple Canteen
With the grace and blessings of Sri Maha Vallabha Ganapati, the Temple canteen was started in 1993 – mainly to prepare "naivedyam" (food offering) to the deities in accordance with agama sastras.
The authentic South Indian food at the canteen was a great appeal to devotees as well, who enjoyed the traditional flavor and taste of idli, dosa, pongal, upma, sambar, chutney, etc., Thanks to the encouragement of devotees, the canteen grew rapidly and moved in 1998 to the current, spacious location in the community center.
Please visit our dedicated canteen website for more information