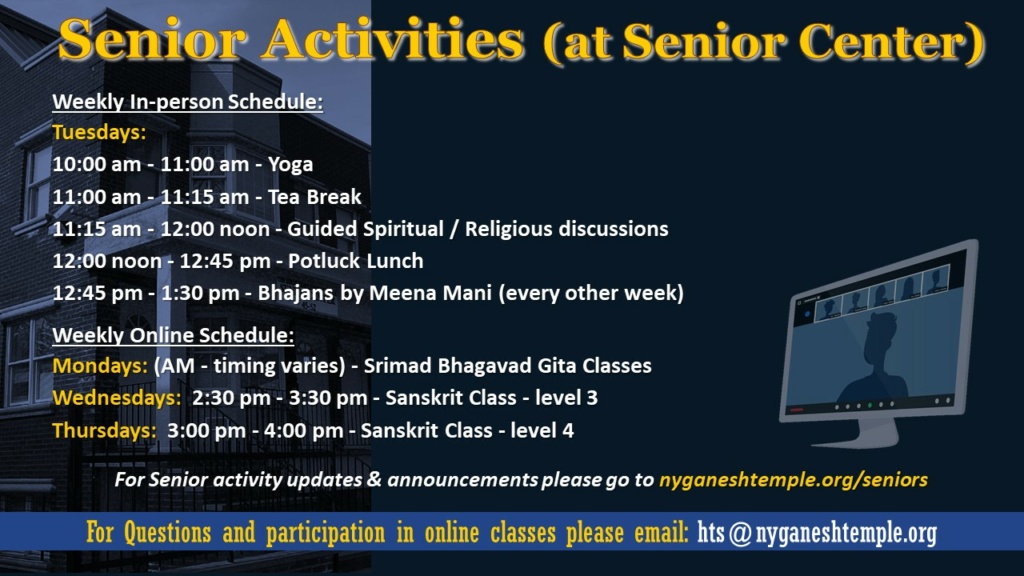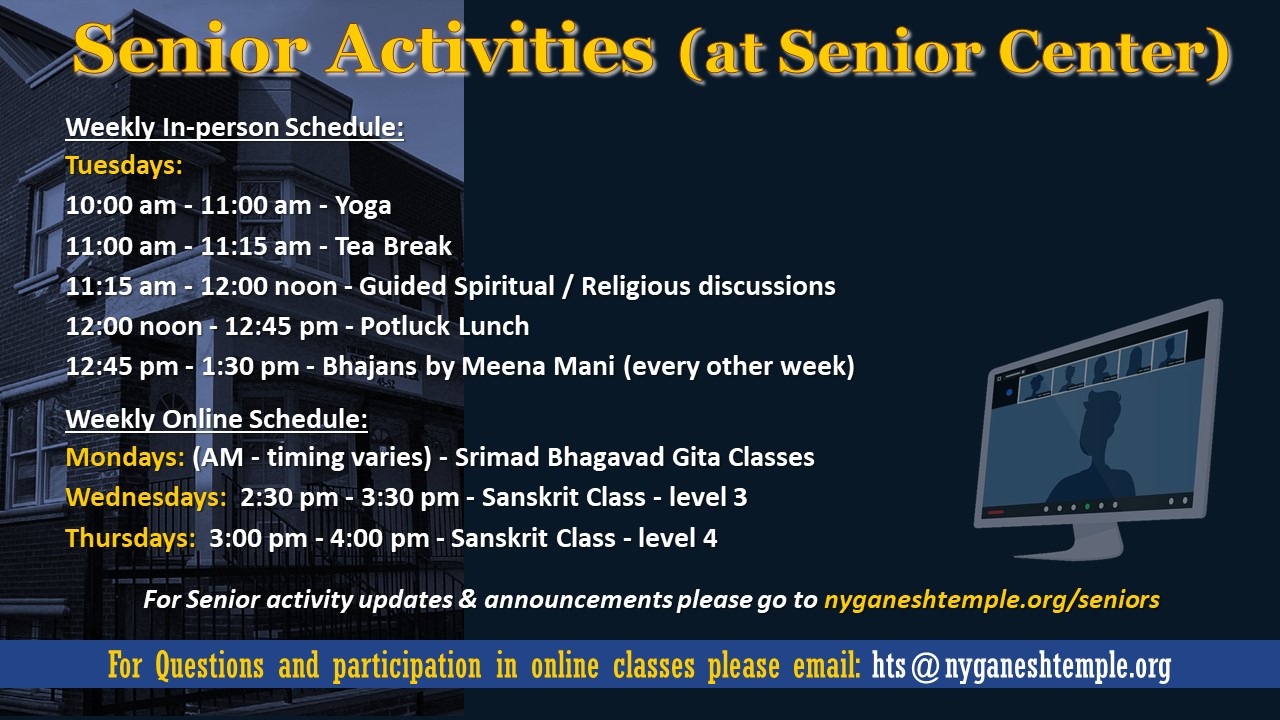 In-person & online schedule update! – as of Tuesday, June 27th, 2023 – see schedule below
Please visit this page for Senior activity updates and announcements…
For Questions and participation in weekly online classes please email: hts@nyganeshtemple.org
Senior Activities (at the Senior Center)
Weekly in-person schedule is as follows:
Tuesdays:
10:00 am – 11:00 am – Yoga*
11:00 am – 11:15 am – Tea Break
11:15 am – 12:00 noon – Guided Spiritual / Religious discussions
12:00 noon – 12:45 pm – Potluck Lunch
12:45 pm – 1:30 pm – Bhajans by Meena Mani (every other week)
Weekly online schedule is as follows:
Mondays: (AM – timing varies) – Srimad Bhagavad Gita classes
Wednesdays: 2:30 pm – 3:30 pm – Sanskrit Class – Level 3
Thursdays: 3:00 pm – 4:00 pm – Sanskrit Class – Level 4
Those interested in participating in weekly online classes may please email: hts@nyganeshtemple.org
*Note: Please consult your physician before you join the Yoga, other exercise classes and all other activities offered by the Senior Program of The Hindu Temple Society of North America. If you have health problems (such as high blood pressure, diabetes, orthopedic problems, body pains or any other medical problems, etc.), you must bring a no objection or a clearance letter from your physician. The Hindu Temple Society of North America, the Senior Center, or any affiliates of the Temple are not responsible for any injuries or physical impairments that might occur.
Engaging – Educating – Entertaining
The Senior Center activities for Seniors & Adults in the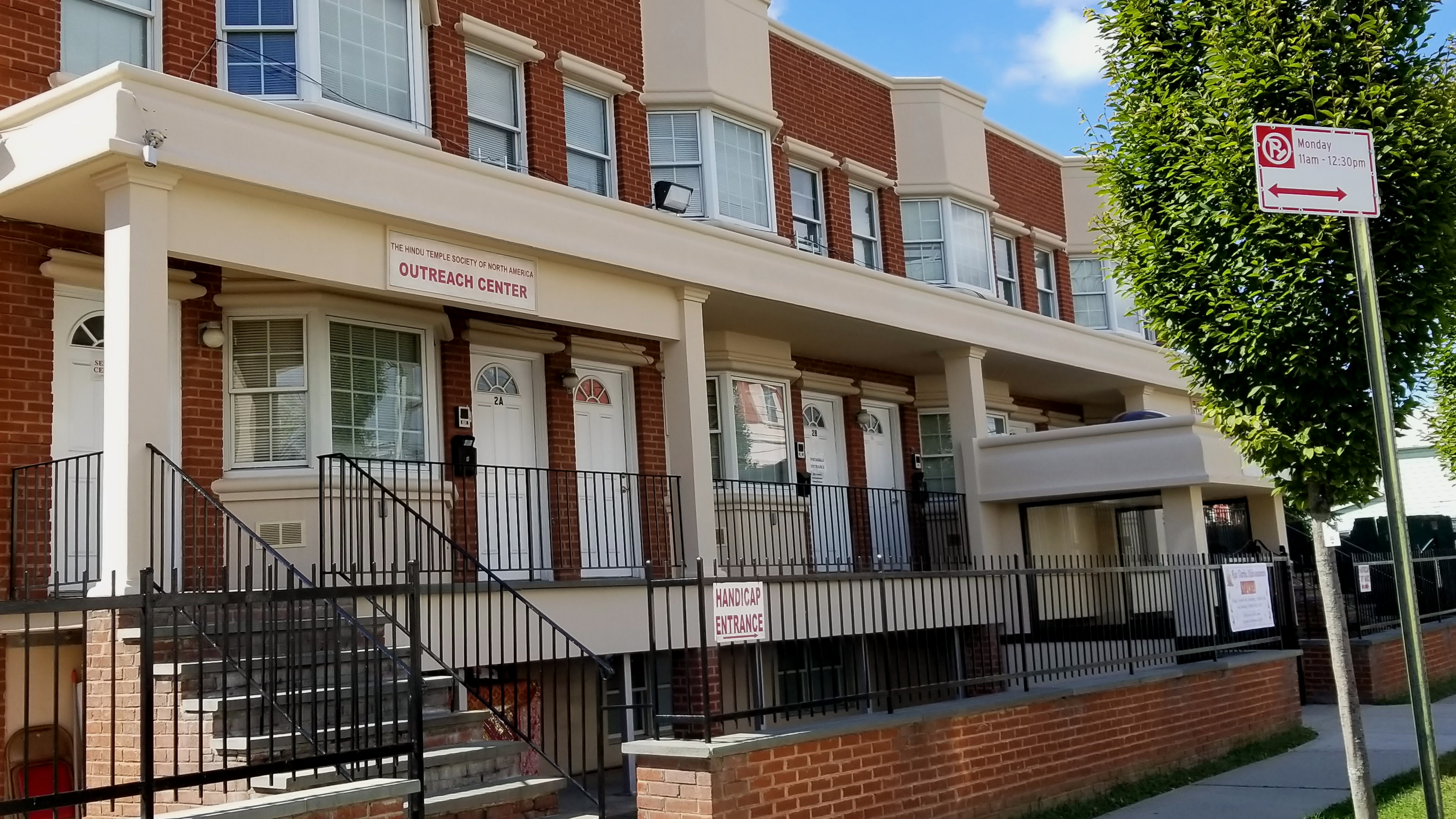 Temple have been going strong for over fifteen years! These activities are coordinated and offered by dedicated and passionate volunteers.
Where is Senior Center located?
The Senior Center is located at 45-52 Bowne Street – right across from the Temple, next to Sri Raghavendra Sannidhi.
Is there a fee to participate in the Senior Activities Program?
Nope! The Senior Activities Program is absolutely free.
Where is the Temple located?
The Temple is located at: 45-57 Bowne Street, Flushing (Queens), NY 11355. For directions and parking info, see: NYGaneshTemple.org/directions
How to contact Senior Center Coordinators?
For questions please email: hts@nyganeshtemple.org