Sankata Hara Chaturthi
October 2, 2023 (Monday)

Next Sankata Hara Chaturthi – October 31, 2023 (Tuesday)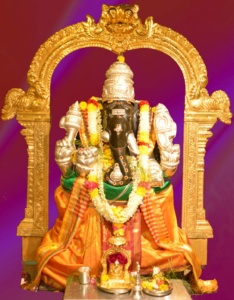 Blessings from Sri Maha Vallabha Ganapati Devasthanam on this auspicious Sankata Hara Chaturthi which is observed every month on the 4th day after full moon..
Every Sankata Hara Chaturthi Day – Maha Ganapati Abhishekam will be performed at 6:00 pm followed by Gakara Archana, Upacharam, Prakara Utsavam and Harati.
Devotees may watch the LIVE Telecast on: Facebook at: Facebook.com/nyganeshtemple
or YouTube at: YouTube.com/nyganeshtemple
Please sponsor Sankata Hara Chaturthi poojas and receive the blessings of Sri Maha Vallabha Ganapati. See below for sponsoring information.
Sankata Hara Ganapati Moola Mantra:
ॐ नमो हेरम्ब मद मोदित मम सर्व सङकटं निवारय निवारय हुं पट् स्वाहा।
Om namo heramba, mada modita, mama sarva sankatam nivaaraya nivaaraya hum pat svaahaa |
Om! Salutations to You, the inspiring and delightful Lord Heramba (Ganapati)! Kindly destroy all my hardships.
Sponsorship
Devotees may sponsor the following religious services online. You may also sponsor at the Temple counter or over phone by calling: (718) 460 8484 Ext 112.