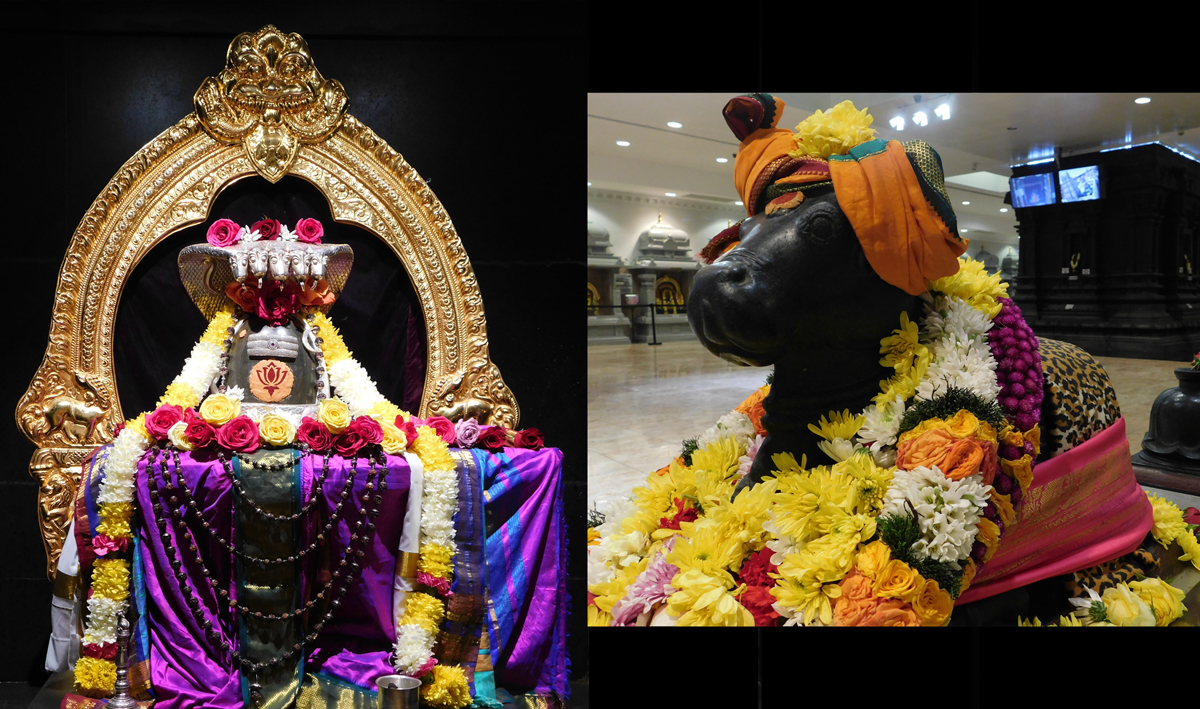 Pradosham
December 10, 2023 (Sunday)
Next Pradosham – December 24, 2023 (Sunday)
6:00 pm – Šri Šiva & Nandikešwara Abhishekam.
Pradosh Vrat, also known as Pradosham, is observed to seek the blessings of Lord Šiva.
Our ancient and wise sages realized that it is imperative for us to contemplate upon and be in communion with divinity. They have observed that spiritual pursuits, such contemplation and introspection, practiced during Brahma Muhurta (the muhurta before sunrise) and pradosha kāla (about an hour before sunset), were beneficial to our spiritual progress.
While Dina (daily) pradosham occurs every evening, šukla pradosham is observed on the šukla (bright fortnight) tryodaši and krishna pradosham, considered to be more auspicious, on krishna (dark) tryodaši. When tryodaši falls on a šanivār (Saturday), it is referred to as mahā (great) pradosham, as Lord Šiva and Goddess Pārvati are said to have performed the ānanda tāndavam on šani pradosham. This is considered to be very auspicious and so well suited for austerities. Soma pradosham falls on a somavār (Monday) and is also considered highly auspicious, as Mondays are dedicated to Lord Šiva.
Pradosha Vrata is commonly observed by maintaining upavāsa (fast) and keeping a promise to do or forgo something all day and break the fast after the pradosha kãla puja. Initially, any upavāsa or vrata is observed in the hope of gaining a material or tangible reward in this life or future life/lives. When vratas are undertaken frequently, there could be occasional flashes when a person thinks beyond personal gains. This could perhaps be the beginnings of a spiritual journey leading to the realization of Brahman.
Pradosham at the Hindu Temple
Poojas and rituals for Šri Šiva are performed meticulously with utmost devotion and dedication. Pradosham at the Hindu Temple is especially extraordinary and auspicious. The poojas include Šri Šiva and Nandikešwara Abhishekam, followed by archana and Harati.
Sponsorship
Devotees may sponsor the following religious services online. You may also sponsor at the Temple counter or over phone by calling: (718) 460 8484 Ext 112.
$51.00Add to cart