Poornima Day – Šri Satyanãrãyana Pooja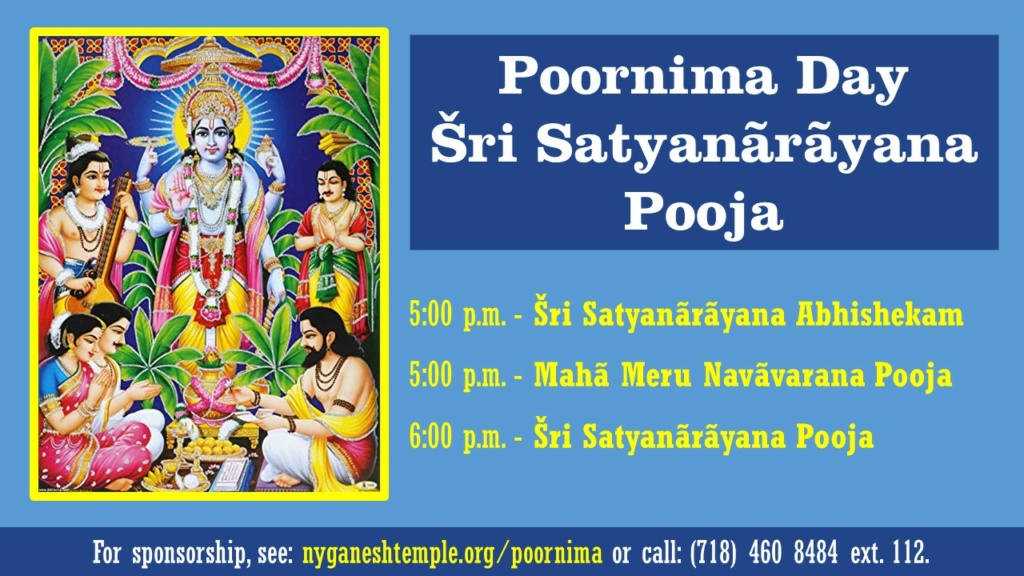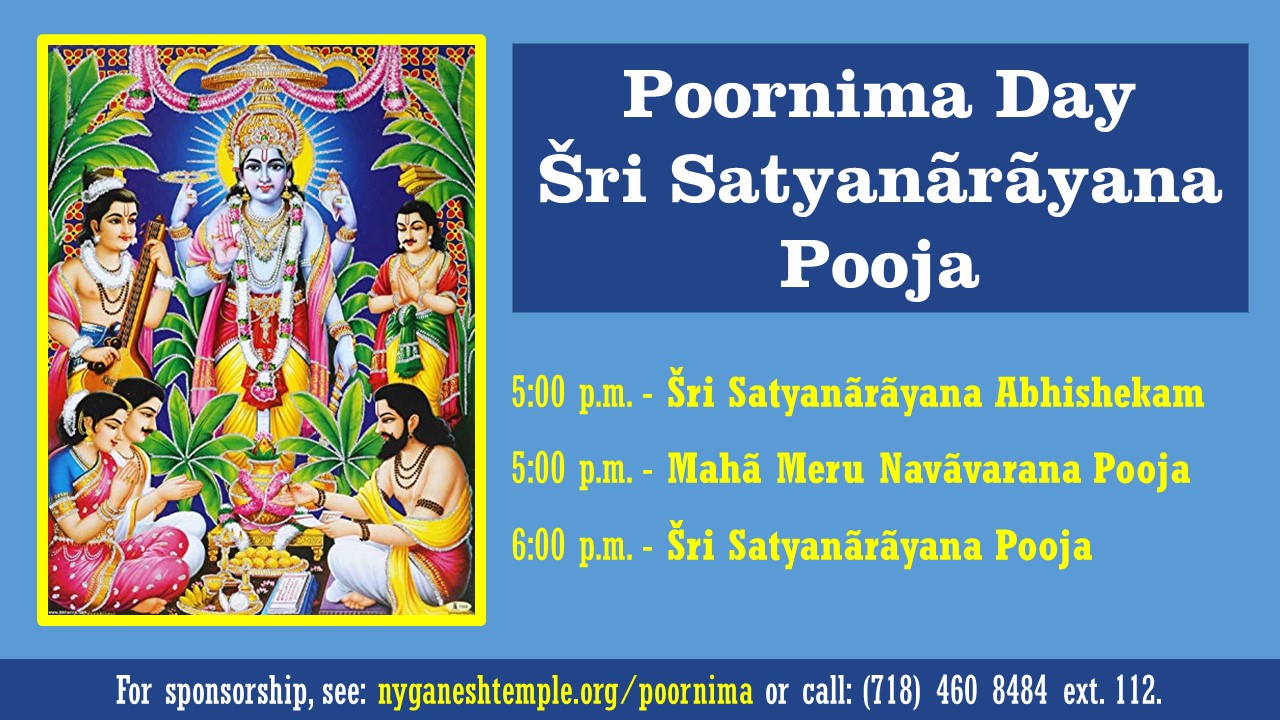 Significance of Šri Satyanãrãyana Pooja
Šri Satyanãrãyana Pooja dates back to ancient times of Skanda Purana. It is written that Narada Muni, the revered Hindu sage, asked Lord Vishnu the mantra or the way to end the miseries of the people on Earth. In response, Lord Vishnu himself advised that worshiping Šri Satyanãrãyana, by performing Šri Satyanãrãyana Pooja with faith and devotion, would be the ultimate way to get rid of problems in life to attain happiness and Moksha.
Šri Satyanãrãyana Pooja is considered very auspicious and can be performed anytime, any where and for any occasions such as marriage, house warming, child birth, etc., The pooja can also be performed to cure illness and enhance health.
Devotees, from time immemorial, have performed Šri Satyanãrãyana Pooja with great beneficial blessings in life wherein their problems and difficulties had been resolved. This pooja is known to:
enhance the physical, emotional, and psychological wellness
bring in peace, harmony, and prosperity.
achieve their dreams by overcoming all hurdles.
Performing Šri Satyanãrãyana Pooja on Poornima Days is especially significant to seek the blessings of Lord Vishnu.
Significance of Navãvarana Pooja
As per Šri Vidya Tantra, it is highly auspicious to perform Šri Chakra Navãvarana Pooja on full moon days (Poornima) worshiping Šri Lalitha Mahã Tripurasundari an incarnation of Goddess Šri Pãrvati.
Šri Chakra is also referred to as Mahã Meru or Šri Yantra. Worship brings every kind of blessings,
with wealth, health and enhances spiritual progress.
Šri Satyanãrãyana Pooja at the Hindu Temple
At the Hindu Temple, Šri Satyanãrãyana Pooja is performed with utmost devotion and dedication on Poornima Days.
Here's the schedule on Poornima Days at the Temple:
Will be performed at 5:00 pm – Šri Satyanãrãyana Abhishekam.
Will be performed at 5:00 pm – Mahã Meru Navãvarana Pooja.
*Will be performed at 6:00 pm – Šri Satyanãrãyana Pooja.
*Devotees may watch the LIVE Telecast on: Facebook.com/nyganeshtemple or YouTube.com/nyganeshtemple
Please sponsor Poojas on all Poornima days to seek the blessings for peace, happiness and prosperity to the entire family.