Sri Siva Laksharchana
Tuesday, November 5th thru Friday, November 8th, 2019
Please see flyer for schedule timings - All Are invited to participate.
Due to Siva Laksharchana - please note schedule changes below
Saturday, November 9th, 2019 - Scheduled Šri Ayyappa Abhishekam will be at 4:00 PM instead of 6:00 PM followed by Bhajans
Sunday, November 10th, 2019 - Scheduled Šri Durga Abhishekam will be at 9:30 AM instead of 4:30 PM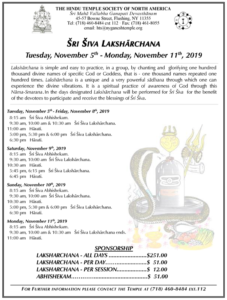 Devotees may sponsor below the following religious services online. You may also sponsor at the Temple counter or over phone by calling: (718) 460 8484 Ext 112.