6th International Yoga Day Online
June 21, 2020 (Sunday)
begins at 8:30 am (EST)
The International Yoga Day is here again, this time virtually!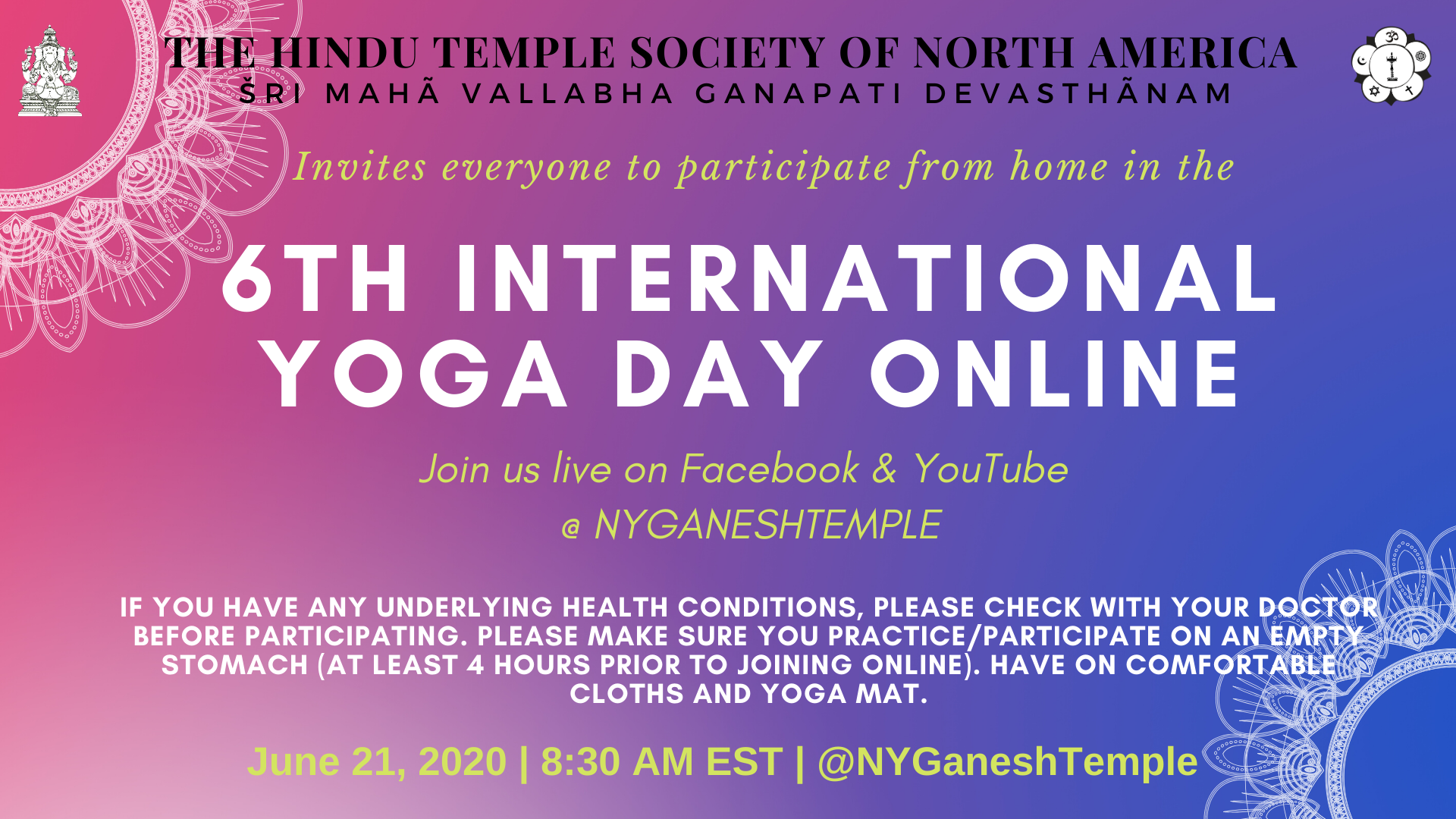 Program Schedule below :
8:30 AM –
Shankhadwani
Prayer
Introduction
Sloka chanting
Homage to Swami Buaji
8:45 AM –
Sun Salutation Demonstration
Group Sun Salutations
9:00 AM –
Yoga Aasana (Virtual group participation)
Pranayama Techniques (improve immunity, strengthen respiratory system)
9:30 AM – Brief Address by Mr. Sandeep Chakravorty, Consul General of India
9:40 AM – Talk on Yoga by Swami Yogatmananda
10:10 AM – Meditation led by Swami Yogatmananda
10:30 AM – Concluding Remarks, Vote of Thanks
All are invited to participate in this virtual program from home – join us online
Facebook – Facebook.com/nyganeshtemple   or YouTube – YouTube.com/nyganeshtemple
Note: If you have any underlying health conditions, please check with your doctor before participating. Please make sure you practice/participate on an empty stomach (at least 4 hours prior to joining online). Have on comfortable cloths and yoga mat.
Consent:  I wish to participate the Yoga practices which are taught at the event. As the wish is quite voluntary on my part, I agree to take full responsibility on myself for any injury, problems or whatsoever might occur to me due to negligence or otherwise. I will not hold either the HTS or any of its agents, teachers or yoga instructor for any claim or personal injury of any nature sustained due to negligence or otherwise.