NYGaneshtemple Cultural Channel. View International Yoga Day LiveStream using the below links:
9th International Yoga Day
June 25, 2023 (Sunday)
begins at 9:00 am – Location: Wedding Halls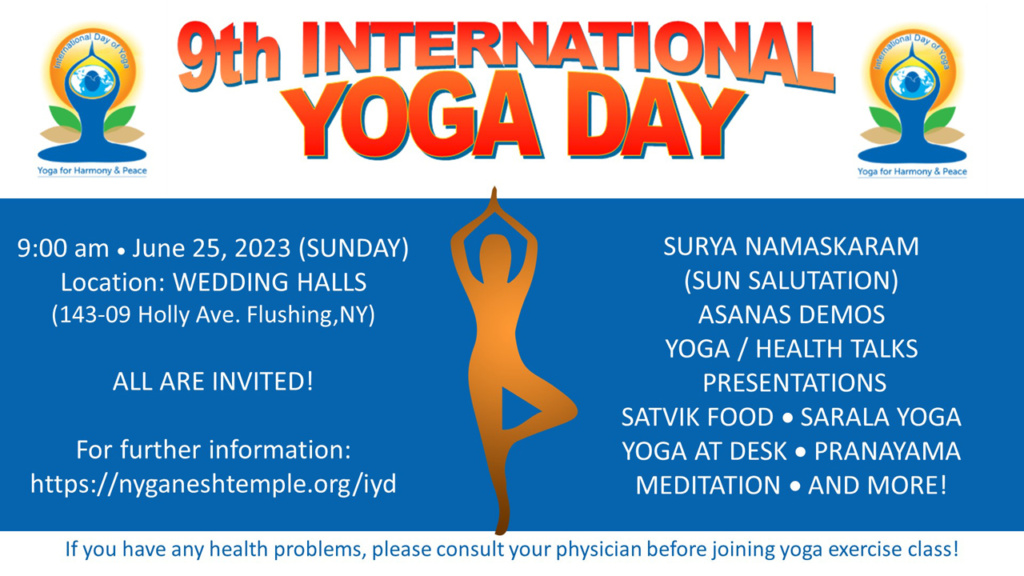 International Yoga Day is back and in person!
| | |
| --- | --- |
| » Surya Namskaram (Sun salutations) | » Desk Yoga |
| » Demonstration of Aasanas | » Pranayama |
| » Guest Speaker: Swami Sarvapriyanada of   Vedanta Society | » Sarala Yoga |
| » Satviik Food | » Meditation & Chanting |
| » Yoga by Children | » Yoga for Seniors |
| | And much more! |
Note: If you have any underlying health conditions, please check with your doctor before participating. Please make sure you practice/participate on an empty stomach (at least 4 hours prior). Have on comfortable cloths and yoga mat.
Consent:  I wish to participate the Yoga practices which are taught at the event. As the wish is quite voluntary on my part, I agree to take full responsibility on myself for any injury, problems or whatsoever might occur to me due to negligence or otherwise. I will not hold either the HTS or any of its agents, teachers or yoga instructor for any claim or personal injury of any nature sustained due to negligence or otherwise.