8th International Yoga Day Online
June 26, 2022 (Sunday)
begins at 1:00 pm (EST)
The virtual International Yoga Day is here again!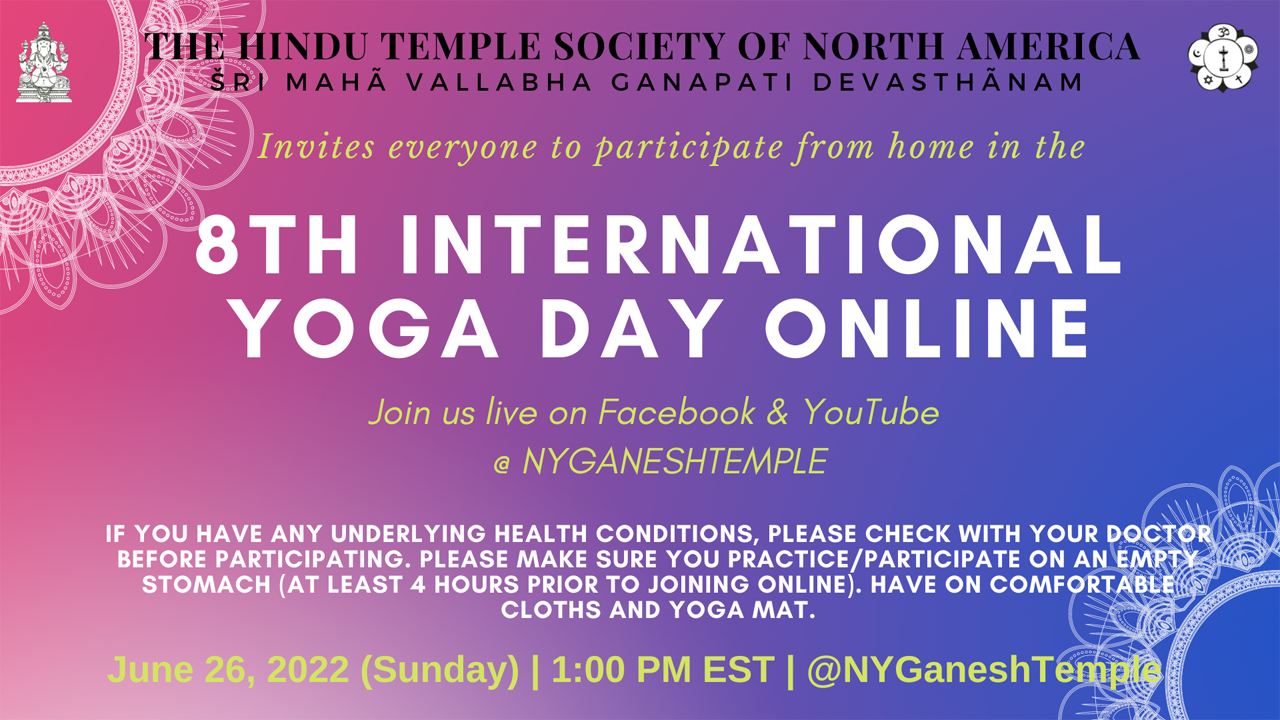 Program Schedule below :
Welcome / Introduction
Shankhadwani /Prayer
Homage to Swami Buaji
Talk on Yoga by Shri Anandamurti Guru Maa (Rishi Chaitanya Ashram, India)
Yogasanas
Pranayama followed by Meditation led by Sanjay Attada
Concluding Remarks, Vote of Thanks
Brief Address by Mr. Randhir Jaiswal, Consul General India and Other Elected Officials during the program
All are invited to participate in this virtual program from home – join us online
Facebook – Facebook.com/nyganeshtemple   or YouTube – YouTube.com/nyganeshtemple
Note: If you have any underlying health conditions, please check with your doctor before participating. Please make sure you practice/participate on an empty stomach (at least 4 hours prior to joining online). Have on comfortable cloths and yoga mat.
Consent:  I wish to participate the Yoga practices which are taught at the event. As the wish is quite voluntary on my part, I agree to take full responsibility on myself for any injury, problems or whatsoever might occur to me due to negligence or otherwise. I will not hold either the HTS or any of its agents, teachers or yoga instructor for any claim or personal injury of any nature sustained due to negligence or otherwise.