Temple Events Calendar
(For daily / weekly pooja schedules, please see here.)
Vasanta Panchami
The celebration of the Vasanta Panchami (also known as Šri Panchami or Saraswati Panchami) is centered on Šri Saraswati, the goddess of wisdom, knowledge, music, arts, science and technology. She embodies the different facets. All devotees - especially for children, are invited to sponsor this special pooja and worship Goddess Saraswati to attain enlightenment through knowledge and to rid ignorance.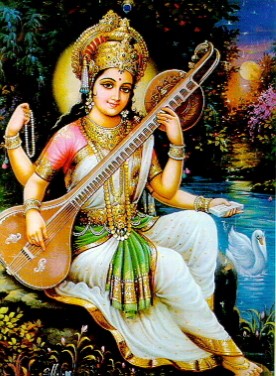 January 25, 2023 (Wednesday)
7:45 am - Šri Saraswati Homam.
*9:00 am - Šri Saraswati Abhishekam, Sahasranãma Pooja, Kumkuma Archana, Hãrati.
*Watch LIVE: Facebook.com/nyganeshtemple or  YouTube.com/nyganeshtemple
Sponsorship
Devotees may sponsor the following religious service online. You may also sponsor over phone by calling: (718) 460 8484 ext. 112.
Vasanta Panchami - $101.00 - Add to cart