Tula Poornima - Annabhishekam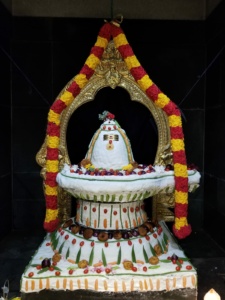 Tula Poornima, observed on the Poornima day in Tula month, is a significant day to worship Šri Šiva in a special Anna Alankaram. Šri Navãvarana Pooja and Satyanãrãyana Pooja will be performed as per schedule.
November 7, 2022 (Monday)
4:00 pm - Šri Šiva Abhishekam, Anna Alankaram, Upacharam, Hãrati.
5:00 pm - Šri Satyanãrãyana Abhishekam.
5:00 pm - Mahã Meru Navãvarana Pooja.
6:00 pm - Šri Satyanãrãyana Pooja.
Sponsorship
Devotees may sponsor the following religious services online. You may also sponsor at the Temple counter or over phone by calling: (718) 460 8484 Ext 112.