Thai Poosam (Makara Pushya)
Thursday, January 28, 2021 - see schedule and sponsorship below
Thai Poosam - commemorates the occasion when Goddess Pãrvati gave Lord Murugan (God of War) a Vel "spear" so he could vanquish the evil demon Soorapadman. Lord Murugan (also known as Karthikeya Skanda and Subramaniyam) is the embodiment of Lord Šiva 's light and wisdom and devotees pray to him to overcome the obstacles they face, as He is the divine vanquisher of evil.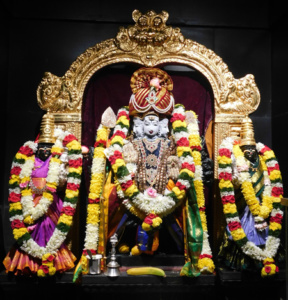 January 28, 2021 (Thursday)
8:00 am - "Pãlkudam" (milk pots) Pooja.
*8:30 am - Šri Shanmukha Abhishekam, Sahasranãma Pooja, Hãrati.
*Devotees may watch the LIVE Telecast on Facebook.com/nyganeshtemple or  YouTube.com/nyganeshtemple
Sponsorship
Devotees may sponsor the following religious services online. You may also sponsor over phone by calling: (718) 460 8484 ext 112.
Thai Poosam – Sri Shanmukha Sahasranama Pooja
$12.00 - Add to cart
Thai Poosam – Sri Shanmukha Abhishekam
$51.00 - Add to cart