Mahã Šivarãtri Celebrations – Info and Schedules
March 8 (Monday) – March 12, 2021 (Friday)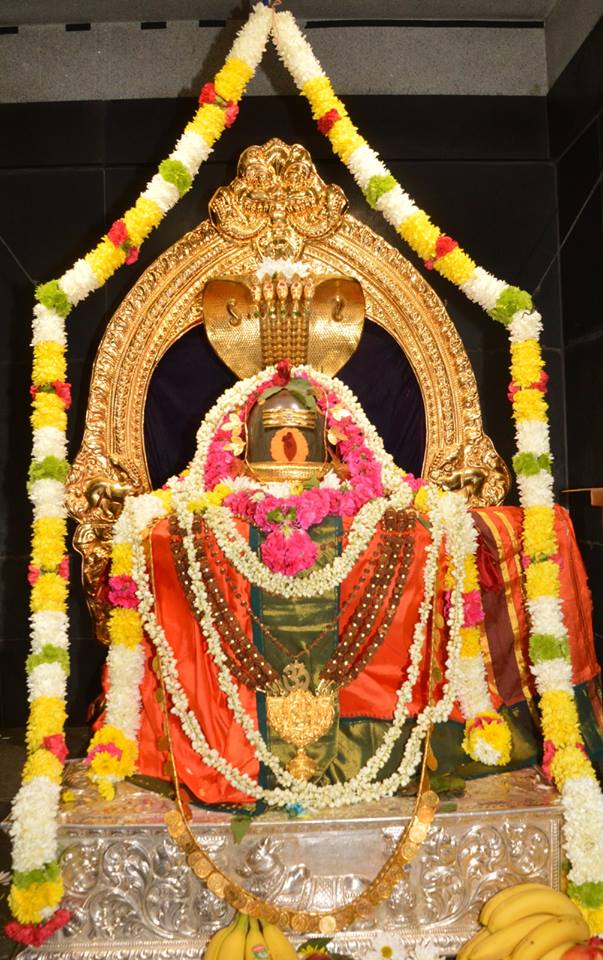 Mahã Šivarãtri Celebrations this year will be observed online only from March 8, (Monday) – March 12, (Friday) 2021. Special poojas, homams, abhishekams and rituals will be performed to Lord Šri Šiva all these days.
Devotees are invited to offer prayers from home to Lord Šri Šiva for the welfare and prosperity of your family.
For online sponsorship during Mahã Šivarãtri see: nyganeshtemple.org/sivaratri or contact the Temple Counter directly at: (718) 460-8484 ext. 112 
The Temple will be closed while priests are performing services during Mahã Šivarãtri, but devotees will be allowed inside the Temple for Darshan and Archana only. NO MORE THAN 30 Devotees maximum – spending up to 10 minutes inside the Maha Mantapa – see timings as follows:
Friday, March 12, 2021 : 10:15 am to 3:30 pm & 7:15 pm to 8:30 pm
Thank you for your understanding, cooperation and support.
The following services will be available for virtual participation:
• Šri Šiva Pooja – March 11, 2021 (Thursday) – at 11:59 pm (EST)
Mahã Šivarãtri Celebrations – Live Streaming
The All-Night Vigil will be streaming LIVE beginning at 5:00 PM on March 11, (Thursday) until 6:00 AM on March 12 (Friday).
Devotees may view the live stream on: facebook.com/nyganeshtemple or youtube.com/nyganeshtemple
Mahã Šivarãtri Celebrations – Schedules
March 8, 2021 (Monday)
8:00 am – Šri Mahã Ganapati Homam, Navagraha Homam, Poornãhuti, Hãrati.
4:30 pm – Kalaša Sthãpanam, Pooja.
5:00 pm – Šri Šiva Moola Mantra Japam & Homam. (1st Kãlam)
6:15 pm – Poornãhuti, Hãrati.
6:30 pm – Chanting of Prayer Stotrãs. (LIVE)
March 9, 2021 (Tuesday)
8:00 am – Šri Šiva Moola Mantra Japam & Homam. (2nd Kãlam)
8:30 am – Šri Šiva Abhishekam, Šri Rudra Trišati Nãma Archana, Hãrati.
9:15 am – Poornãhuti, Hãrati.
5:00 pm – Šri Šiva Moola Mantra Japam & Homam. (3rd Kãlam)
6:15 pm – Poornãhuti, Hãrati.
6:30 pm – Chanting of Prayer Stotrãs. (LIVE)
March 10, 2021 (Wednesday)
8:00 am – Šri Šiva Moola Mantra Japam & Homam. (4th Kãlam)
8:30 am – Šri Šiva Abhishekam, Šri Rudra Trišati Nãma Archana.
9:15 am – Poornãhuti, Hãrati.
4:30 pm – Mahã Pradosham, Abhishekam.
5:00 pm – Šri Šiva Moola Mantra Japam & Homam. (5th Kãlam)
6:15 pm – Poornãhuti, Hãrati.
6:30 pm – 108 Spatika Linga Ashtottara Nãma Pooja. (LIVE)
March 11, 2021 (Thursday) – Mahã Šivarãtri Day
8:00 am – Šri Šiva Moola Mantra Japam & Homam (6th Kãlam) (LIVE)
9:00 am – Mahã Poornãhuti, Hãrati.
9:30 am – Šri Šiva Abhishekam, Šri Rudra Trišati Nãma Archana, Hãrati. (LIVE)
The All-Night Vigil – March 11, 2021 (Thursday)
Phase I – 4:00 pm 
4:00 pm – Mahãnyãsam.
5:00 pm – Ekãdašavãra Rudrãbhishekam starts, Chandana Alankãram, Pooja, Hãrati. (LIVE)
7:15 pm – Šri Pãrvati Abhishekam, Pooja, Hãrati, followed by Virtual Bhajans by students of Ganeša Patašãla (LIVE)
Phase II – 10:30 pm
Bilva Samarpana Šloka Japam, Šri Šiva Abhishekam, Vastra Ãbharana Alankãram, Šri Rudra Trišati Nãma Archana, Hãrati. (LIVE)
11:59 pm – Virtual Šri Šiva Pooja Online
Phase III – 1:00 am on March 12, (Friday)
Šri Panchãkshara Mantra Japam, Šri Šiva Abhishekam, Vibhooti Alankãram, Bilva Ashtottara Šata Nãma Archana, Hãrati. (LIVE)
Phase IV – 3:30 am on March 12, (Friday)
Šri Šiva Abhishekam, Pushpa Alankãram, Pooja, Hãrati, Šri Nandi Abhishekam, Hãrati. (LIVE)
March 12, 2021 (Friday)
4:00 pm – Šri Šiva Abhishekam, Sahasranãma Pooja, Hãrati.
5:00 pm – Šri Šiva-Šri Pãrvati Kalyãna Utsavam.  (LIVE)
6:30 pm – Chanting of Prayer Stotrãs. (LIVE)