Sri Hanuman Laksharchana
Monday, December 16th thru Wednesday, December 25th, 2019
Please see flyer for schedule timings - All are invited to participate.
Due to Hanuman Laksharchana - please note schedule changes below
Scheduled Mahã Lakshmi Utsavar Abhishekam will be performed on Sunday, December 15th, 2019  instead of Sunday, December 22nd.
Scheduled Šri Sundara Khãnda Pãrãyanam will be performed on Tuesday, December 31st, 2019  instead of Tuesday, December 17th.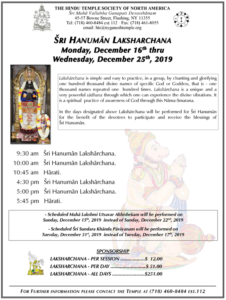 Devotees may sponsor below the following religious services online. You may also sponsor at the Temple counter or over phone by calling: (718) 460 8484 Ext 112.