Madhva Navami
Saturday, February 20, 2021 - see schedule and sponsorship below
Madhva Navami, šukla navami (ninth bright lunar day) - Šri Madhvachãrya, a foremost guru who advocated philosophy of Dvaita Vedanta (duality). The day on which Šri Madhvachãrya proceeded on a solitary journey to Badri is celebrated as Madhva Navami.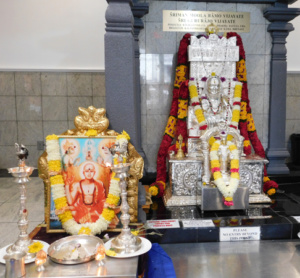 February 20, 2021 (Saturday)
7:30 am - Pavamãna Homam.
*9:30 am - Šri Rãghavendra Swãmy Abhishekam.
6:00 pm - Šri Madhvãcharya Sahasranãma Pooja, Hãrati.
*Devotees may watch the Abhishekam LIVE on: Facebook.com/nyganeshtemple or  YouTube.com/nyganeshtemple
Sponsorship
Devotees may sponsor the following religious service online. You may also sponsor over phone by calling the Temple : (718) 460 8484 ext. 112.
Madhva Navami - $101.00 - Add to cart