Jeernoddhãrana Punarãvarthana Swarnabandhana
Mahã Kumbhãbhishekam
August 31 (Wednesday) thru September 7, 2022 (Wednesday)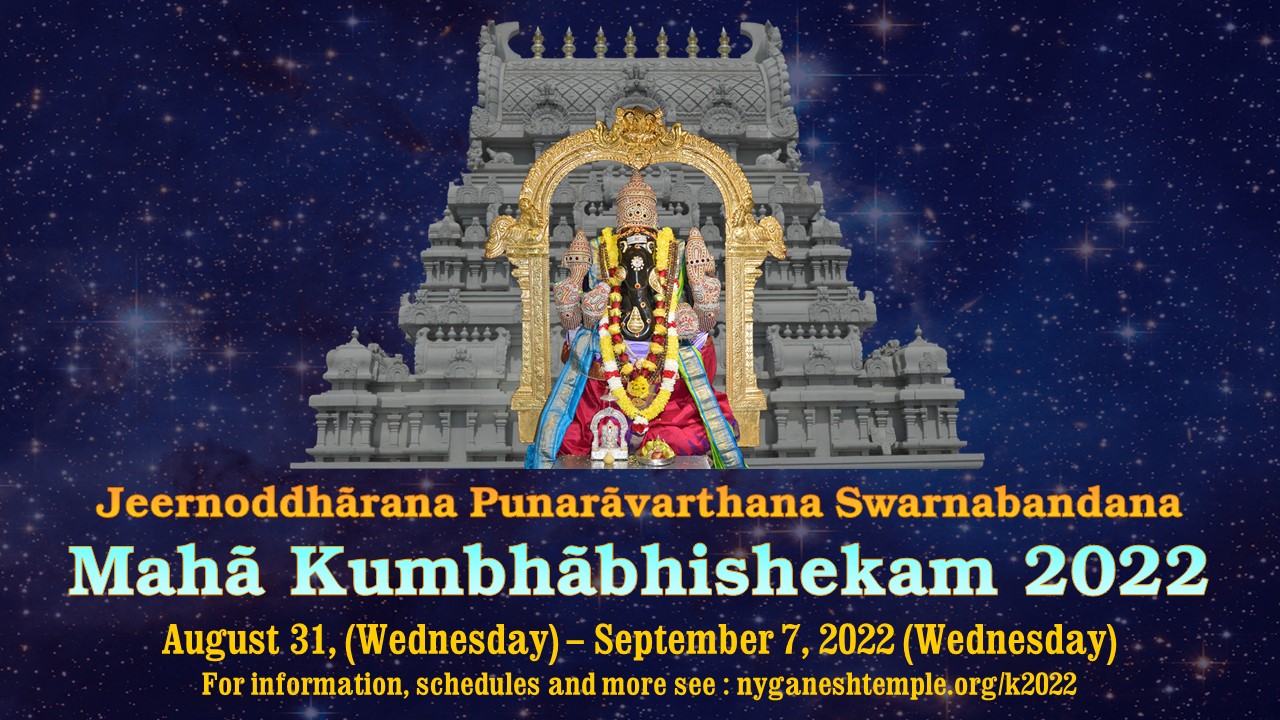 The most sacred and auspicious Jeernoddhãrana Punarãvarthana Swarnabandhana Mahã Kumbhãbhishekam is coming up in 2022…Please check this page for updates!
See below to learn about the Significance of Mahã Kumbhãbhishekam, Schedule Highlights and Sponsoring Info.
The Temple invites all devotees to participate in the holy rituals, donate, sponsor and support this most sacred event of our Temple.
The Devasthãnam appeals to devotees, followers and supporters to offer donations towards Kumbhãbhishekam 2022 which can be made online or over phone by calling the Temple at: (718) 460 8484 ext. 112.
Full schedule and sponsorship details to be announced…
Schedule Highlights
August 31, 2022 (Wednesday)
Šri Šiva, Šri Pãrvati, Šri Shanmukha-Valli-Devasenã, Šri Venkatešwara, Šri Mahã Lakshmi, Šri Hanuman
and Šri Kãmãkshi – Balasthãpanam & Swarnabandhana.
September 1, thru September 7, 2022
Mahã Kumbhãbhisheka Kriyãs
September 7, 2022 (Wednesday)
All Gopurams & Vimanãs, Šri Maha Ganapati, Šri Šiva, Šri Pãrvati, Šri Shanmukha-Valli-Devasenã, Šri Venkatešwara,
Šri Mahã Lakshmi and Šri Hanuman – Mahã Kumbhãbhishekam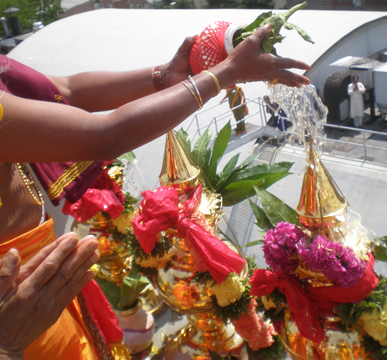 The Significance of Mahã Kumbhãbhishekam
Jeernoddhãrana Punarãvarthana Swarnabandhana Mahã Kumbhãbhishekam
Kumbhãbhishekam (consecration) is a ritualistic process through which the vital energies are infused into a deity which becomes divine in this process. Manifestation of the supreme god is devoutly invoked. The rituals are intended to secure divine presence in the deity at the sanctum sanctorum. As per Ãgama šãstra, which is the source text for general frame work of religious and philosophical aspects of temple structure, installation of icon/deity, worship, ceremony and rituals, a temple has to perform consecration ceremony for various reasons. As per the renovation rule (Jeernoddhãrana Punarãvarthana) of Ãgama, re-consecration should be done once in every 12 years or whenever any structural modifications or expansions or any major repair work due to natural wear and tear or natural calamities are carried out.
The Hindu Temple Society of North America had its first Kumbhãbhishekam performed on July 4, 1977. Subsequently second, third and fourth consecrations were performed in 1988, 2009 & 2011 as per the guidelines of Ãgama šãstra. It is now time for the temple to carry out the fifth Kumbhãbhishekam which is scheduled on August 31st thru September 7th, 2022. Elaborate arrangements are being made to perform the consecration strictly as per the Agama šãstra, with the help of our Temple priests and other priests available locally. The ritual of consecration confers renewed energy at once spiritual and occult on the deities, so that when a devotee worships, he or she partakes this energy..
According to Ajitãgama, Prati bimbastitam mantram, pratishteti prakeertitam meaning every object of worship gets naturally glorified and energized with the mantras chanted during consecration. The rituals are meant to secure a divine presence in the deities and to maintain the sanctity of the shrines. The presence of cosmic energy increases many fold during the performance of Kumbhãbhishekam. Worshipping the re-energized, fully manifested form of all-pervading supreme being would bestow on the devotees fulfillment of their desires.
The ritual would commence a week ahead of the Kumbhãbhishekam ceremony. Rituals include installation of wooden pillar marking the beginning, seeking divine permission, sowing grains on the soil (mother earth), protective band for priest and temple chief, arranging vessels with sacred water, sacramental rituals and fire worship, applying adhesive ingredients of eight herbs, invoking of supreme God into the icons and transforming them into effective objects of worship culminating in divine wedding in commemoration of the completion of the consecration. The rituals end with Mandalãbhishekam.
Temple cordially invites all to participate and involve themselves in various activities, do seva by servicing, volunteering, donating & sponsoring and thus become recipients of the blessings of Šri Mahã Vallabha Ganapati and other deities.